Harper Talks – Andy-John Kalkounos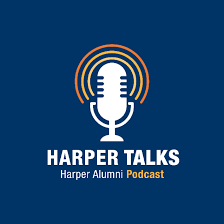 In a riveting new episode of Harper Talks, the show welcomes an exceptionally multifaceted individual, Andy-John Kalkounos. Wearing many hats, including that of a restaurateur, actor, real estate professional, and the Palatine Township Supervisor, his journey is nothing short of remarkable. As a 2010 Distinguished Alumnus of Harper College, Andy-John's return to the platform marks a nostalgic and insightful episode.
The Many Faces of Andy-John Kalkounos
Andy-John's foray into the world of Restaurants showcases his passion for culinary arts and the ambiance of eateries. From conceptualizing menus to ensuring the best guest experience, he's carved a name in the hospitality sector.
His journey in the Entertainment Industry as an actor brings forth captivating tales from behind the scenes, the challenges faced, and the joys of embodying diverse characters.
With a sharp acumen in the Real Estate realm, Andy-John has ventured into the world of property, helping countless clients find their dream homes while also understanding market dynamics.
Serving as the Palatine Township Supervisor, he demonstrates a dedication to community service, aiming to uplift and support the residents through innovative programs and leadership.